Why, hello! It seems as though I disappeared again, huh? My bad. Life just picks up sometimes and gets in the way. But, the past month since I last wrote has been a total whirlwind but awesome!
How have you all been? I'm looking forward to checking out your WIAWs and seeing what's been cooking in your kitchens. Lots of pumpkin things, I hope! Count me in as another pumpkin obsessed blogger. ;)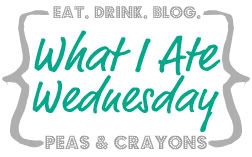 A few of the things I've enjoyed over the previous few weeks...
Believe it or not, these homemade chicken nuggets were 100% paleo! No pink slime here! The kid in me was so psyched.
Boston lettuce wraps with chicken thighs, roasted acorn squash, and bacon. Simple but SO tasty and full of fall flavor.
Paleo orange chicken over cauliflower rice! Recipes for all of the above will be coming soon, so not to worry. Or...maybe you should since I've been a total flake over here? ;)
An egg, sausage, bacon, and double cheese panini on gluten-free bread from Twist in Millis, MA. This was amazing; the bread was so excellent that I could barely believe it was GF. In fact, the entire restaurant is gluten-free.
This cupcake was also from Twist and is completely gluten-free...but you'd never have known it. Yum, it might not be paleo but it was the perfect birthday treat! :)
So were these deep fried Oreos. I could never say no to these lovely gems. Heaven in a deep fryer.
I have a lot of other things to share with you all but they will have to wait til next time.
PROMISE there will be a next time and soooooon!
:)