Happy Wednesday WIAWers! I'm sharing more of my Africa eats this week.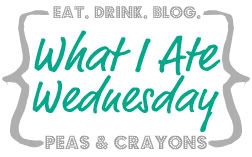 Egg topped steak; Lamb curry in roti
Not sure what this restaurant was called but we stopped by while touring around Cape Town. It wasn't anything too special but I did enjoy my lamb! Lamb is a popular meat in the area.
Plate of HEAVEN including some amazing beef with creamy mushroom sauce; tomato soup shooters; my first ever taste of Christmas pudding w/ custard
The first few days of our trip were pretty tough - multiple truck breakdowns, missing a spot on our itinerary, our first chef's crappy cooking. Luckily, we were rewarded on Christmas Day with an amazing feast by the folks at Delta Rain. They even decorated the tables, had a mini Christmas tree on the patio, and gave us little wrapped gifts. It was super nice of them, especially after the hard first days of our trip.
Piiiiiiizza
Huge pizza fanatic I am, I obviously had to get some while in Africa. Pizza Inn was always accompanied by a chain of other "Inns," like Chicken Inn. Nothing special and the crust was pretty bad.
On the other hand, I thought the Debonairs Pizza was pretty dece and would probably order back home. We got the Meaty Double Stack, which reminded me a bit of that cheesy double decker pizza Domino's used to offer.
Can't remember what this was; biscotti w/ creme brulee; lamb rump
Jumping back to Cape Town, we stayed at a Cape Milner, a nice hotel with a gorgeous view of Table Mountain. Their breakfast buffet was decent & they had bacon so I was a happy gal. And their dinner menu was yummy, though it was strange to me that almost everything seems to come with fries.
A cloud covered Table Mountain. The locals call the cloud cover the tablecloth haha.
A couple of enormous egg rolls at Chobe.
We discovered meat pies while we were gassing the truck up. After that, we had to buy them anytime we came across them! So good! I was determined to make them once I returned home but still haven't - gotta get on that!
Part three next week! :D
[In case you missed part one, check it out
here
.]