WIAW completely snuck up on me this week and I don't have many completed meal photos. I wanted to keep with my posting groove, so I've got some random pictures of eats from the week and that'll have to do. Promise I'll be better next week. ;)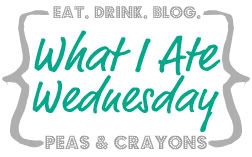 Also, as you might have noticed from the past couple months of WIAWs, I have clearly fallen off of the paleo bandwagon and been indulging in all sorts of treats this summer. Whoops. While it has been very enjoyable, I've noticed that I simply don't feel as good anymore. My workouts have felt harder, getting up in the mornings as been ridiculously tough again, obviously a few extra pounds found their way back (not why I was eating paleo but still a side effect), and I've just felt more blah.
End of summer = end of this indulging business. I've still been trying to mostly eat well during the week but want to kick it back into high gear come summer's end. Getting back to eating mostly paleo, cutting the junk, and limiting my beers (wah!) is on the horizon. In the meantime...
Let's party!
I had to try a couple of the new Cho flavors, blackberry and apricot. Blood orange is still my favorite but these were decent.
After spotting red bananas, two came home with me. I had never had one and I like to try new fruits. They tasted pretty much the same as a regular ol' yellow banana.
I made some broccoli pesto. I'm still going to tinker with the recipe a bit but it was pretty good stuff. Enjoyed it on some pasta and on eggs.
The grill decided it was a great idea to start a fire ON my chicken. Luckily these thighs were skin-on so it was easy to remove the burnt parts. Unluckily, the yummy spice rub was on the skin so I didn't get to really taste it. Next time...
Deeeelish but so not attractive in this photo! PaleOMG's
Summer Squash Meatball Casserole
. A few of the commenters said their casserole came out watery or mushy. Mine came out great so here's a few extra steps I did to try and remedy this:
- After shredding, squeeze as much water outta the zucchini as you can.
- I sauteed everything then removed it to a casserole dish with a slotted spoon. This leaves behind the extra liquid that could make your casserole mushy.
- Baked it at a bit higher of heat for a little longer, about 400* for 35 to 40 minutes.
A burrito the size of a baby!
I'd forgotten that I bought a fudge sampler a few weeks ago in Newport. This was a nice find in the fridge!
Speaking of nice finds, I saw this and it HAD to come home with me. What the heck is cottage bacon? Have any of you tried it?
Fresh peaches! I went peach picking with the little dude I nanny for.
And finally, the beer shot of the week:
Happy Wednesday!!!