Cool stuff from the past week:
* Black Sabbath concert...for a bunch of old dudes, they still sound freakin' amazing!
* I ran the Spartan Sprint with a bunch of Crossfit friends!
* Breaking Bad is back! Only a handful of episodes left until its totally over, wahhh.
* And...I took more food - and beer, of course, right
Jessie
? ;) - photos to share with you all for this week's What I Ate Wednesday!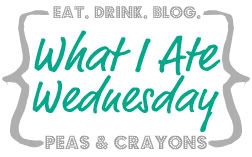 One morning I was bummed out because I didn't have any bacon for breakfast. Luckily, I had this cheese so all was well in the world. This is some seriously amazing stuff!
What did the girl melon say to the boy melon after he proposed?
We're too young, we cantaloupe!
Grillin' with some chicken and zucchini and chillin' with some cukes. Easy.
As I predicted in my post
last week
, a soup was indeed happening. Used up the broth I made by tossing in a bunch of diced up veggies and chicken for a quickie soup. It turned out pretty well but a big scoop of pesto really took it over the top.
Best. Pizza. Ever. Mashed potato and bacon pizza from BAR in New Haven, CT. Thanks for sharing, babe! :)
Speaking of bests ever, this burger was right up there! From The Abbey in Providence, RI, its called the Couch Potato and topped with pulled pork, blue cheese, thick cut chips, caramelized onions, and mayo. Re-freakin-diculously good.
Its not too early to pumpkinize things, is it? Because it already happened with these chocolate pumpkin brownies. My "To Cook" pumpkin-flavored list is growing by the minute...
And onto the beers!
Found this little sixer and it immediately jumped into my hands. While I had high hopes for the Strawberry Lager (which didn't pan out), the Beer Flower Wheat was excellent!
Yum!
Drinking a Hefeweizen in the shadow of the brewing room at Trinity in Providence.
Have a great week everyone!