I know its still the beginning of August but it has totally felt like fall in the Northeast the past few days. As much as I love summer, it has been really nice cooking without sweating my brains out. I was able to drink hot tea again. And perfect sleeping weather is starting to return.
But I'm not ready to say good bye to summer just yet. There's a lot more fun to be had, sun to soak up, and grillin' and chillin' to be done! :)
And, of course, quite a few more fun summer WIAWs to be had including today's so let's hit it!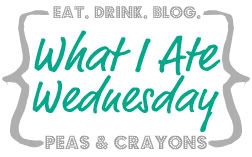 Because every morning should involve bacon!
The aforementioned bacon, scrambled eggs, avocado, and tomato made up a huuuuge breakfast plate one morning. I was totally starving after a tough Crossfit wod so this whole thing absolutely got eaten up.
For time:
30 clean & jerks
30 burpees
20 clean & jerks
20 burpees
10 clean & jerks
10 burpees
Collapse on floor for a little while
Go home
Eat extremely large plate of noms.
I definitely went a little produce crazy this week, but there was good deals to be had everywhere! There's a bunch more from before my shopping spree hiding in the fridge too. It was a bit difficult to close that bad boy afterwards...
I got a crazy awesome deal on a couple of ~4 pound chickens too, so I threw one into the freezer and roasted this one up. Told ya it was feeling like fall over here!
Roast chicken and mashed cauliflower!
And so nothing goes to waste, using that chicken carcass to make a quick broth. I foresee some soup in the near future...
Another autumn-y meal:
Chipotle Pork Tenderloin
, sweet potato coins, and applesauce. This is one of my favorite meals to make because it is SO easy and quick to throw together after work.
The grill is still in action over here, despite my oven lovin' lately. Cheeseburgers are just better when they're sporting happy ketchup faces.
Two of my friends and I enjoyed a perfect beach day on Sunday, followed by some ice cream, of course! This was one of the best cones I've had all summer - chocolate peanut butter cookie dough. I wish every place had this flavor.
Here's a fun summer & fall juxtaposition: an Oreo Blizzard and a Shipyard Pumpkinhead! The best of both seasons.
Peak Organic's Pomegranate Wheat Ale.
Cheers!