Its Wednesday. The middle of the week. Hump Day. Let's start off with a mindlessly fun survey!
Okay, that was fun! Let's get to some WIAW action now, shall we?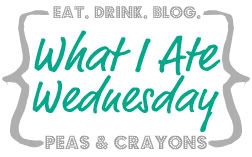 I can't be trusted with a container of raspberries since I will eat the whole thing in one sitting. So good! Definitely my favorite berry.
Holy crap, that's a lot of vinegar! Apple cider, pomegranate, fig, balsamic, raw coconut, blood orange, and malt. What are some other ones I should add to my collection?!
I made this Thai Grilled Chicken with Sweet & Spicy Dipping Sauce from the June issue of Eating Well. Pretty darn good! By itself, the chicken was fairly decent but it was definitely tastier with the sauce. FYI: the sauce recipe calls for rice or cider vinegar. I had seasoned rice vinegar, which already contains sugar, so I didn't add much more sugar to mine. Also, I realized that my rice vinegar isn't pictured above...another vinegar in the books!
Obsessed with this cheese! If you live near a Trader Joe's you absolutely must give this one a try!
Grilled pork tenderloin and applesauce, the perfect combo! I spiced my pork up with a little bit of...
Mama's Pearl hot sauce! I reviewed these Boston-based hot sauces on my blog, so check it out here.
Spicy Tuna Tempura. The sauce on this was out-freakin-standing! New favorite sushi right here.
And since I don't have any boozed up shots for you this week (shocker, I know), how about some chocolate? Everyone loves chocolate.
YUM!