I hope that everyone had a great Fourth and weekend! It was a busy, busy one here but that seems to be the theme lately. Lots of fun :)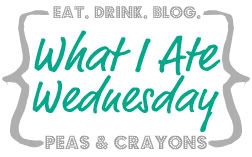 And before I knew it, here we are again with another WIAW. Wednesdays seem to be creeping up quickly lately!
My babe was responsible for this protein-packed plate! Grilled steak and chorizo, eggs with charred peppers, and avocado chunks. He found the chorizo at a local farmer's market and it was freakin' delish.
Cherries!
More steak and grilled peppers. Great summer combo and it doesn't heat up the house - score.
I found these kale chips the other day and had to give 'em a try. I love chipotle flavored things. Cool thing: they're almost paleo (they just have a tiny bit of sugar in them). Eh thing: they taste just alright. Making my own kale chips tastes far better, is cheaper, and healthier.
Om nom nom, an original tomato pie with cheese from
Frank Pepe's
! My best friend and I enjoyed this fabulousness before the Megadeth, Black Label Society, and Hellyeah show. \m/
Lemony chicken thighs on top of lemony spaghetti squash. Think I like lemon much? Tastes like summer.
Gratuitous booze shots are apparently my new thing so here's a shot of Cafe Patron, mixed with...???
Alright, see ya all next week. Happy Hump Day!