Another Wednesday, another chance for blogland to share their eats from the week!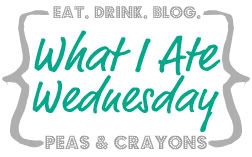 And let me tell you, it has been a fun food week over here! So let's just get at it:
Breakfast the other morning was quite the delicious combo: eggs topped with melty cheese and Mama Pearl's hot sauce (review coming soon!). Yum, I couldn't believe how excited I was about eating eggs. Bacon and raspberries were just icing on the cake.
Another morning I was treated to freshly picked black raspberries. My brother and his girlfriend found a patch in the woods near our house and picked a whole ton. How's that for some local foraging?
I'm not a baseball fan in the least but my best friend asked if I wanted to go to the Red Sox game with her. Of course I said yes because 1- Fenway Franks and 2- beer...Sam (Adams) Summer, to be exact - a Boston favorite.
Making some kale chips covered in chile powder, black pepper, and salt. Easy peasy.
This steak was damn good! I marinated the steak in tequila, citrus, & cilantro and topped it with a super garlicky 4 herb chimichurri sauce. Drool. The recipe will be up tomorrow, so stop back!
"The Funky Apple" from
Ward Eight
in Lowell. Gorgonzola, green apple, caramelized onions, and balsamic drizzle.
The family I nanny for is away on vacation this week so on my "last day," I bought the little boy a special cupcake to celebrate! A chocolatey and peanut buttery Baba Booey from Crumbs. Luckily, he shared some with me. ;)
And now, onto the drinks portion of my week:
A frozen kiwi margarita.
Grapefruit beer - very low in alcohol but totally refreshing!
And my favorite of the week: "Angry Balls." Angry Orchard cider mixed with cinnamon whiskey. WOW - I originally ordered it because of the name alone but it ended up being fantastic!!!!
Wishing you all a great Wednesday and a wonderful Fourth of July!