Hard to believe that it is the last day of July already. This summer is flying by! And while I absolutely love fall, I'm so not ready to start thinking about it. But "they" seems to already be pushing it - I've seen numerous back to school ads and then came across this at the liquor store...
Of course, I absolutely gave in and bought some because its like, a natural reflex. And actually, I haven't been loving the summer beers this year. For some reason they have all tasted funny and "off" to me, even ones I usually enjoy like Sam Summer or Saranac Shandy. Guess my taste buds are ready for fall, even if I'm not.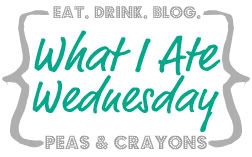 A spicy lil snack! Spicy green olives and stuffed cherry peppers. I love raiding the olive bar for treats. Or sometimes, just a regular bar. My best friend and I were enjoying a few drinks at a Las Vegas bar and they had colossal green olives for martinis. I asked the bartender if I could have one and he gave me a shot glass full. After I gobbled em all up, he asked if I would like another shot of olives. Haha! Seriously, I probably ate 7 shot glasses worth of olives. It was a good day.
A kiwi margarita and a big ass bowl of black bean soup from a local Mexican joint. Usually I steer clear of margs but these are the best - not too sweet or sour or boozy.
It was my sweet little niece's sixth birthday last week and we had her party over the weekend. She requested a Beatles birthday so everything was decorated with Beatles stuff and we cranked their tunes. And of course, the grill was cranking out some tasty eats. I love me some BBQ goodies, especially my mom's potato salad. #thebest :)
My babe has been talking up the Publick House's Brendoni sandwich and I finally got to give it a try for myself. Well, let's just say that he was definitely onto something - this thing is goooood! Braised short ribs, pancetta, fried egg, caramelized onions, tomato, arugula, basil aioli, and asiago cheese....basically, everything amazing all wrapped up in one sandwich! We also had some of their fries with both truffle and apricot & mango ketchups.
I watched the Crossfit Games while eating a Klondike Bar. Probably not the best choice of snack...I feel like I should've been downing a protein shake or something haha. I like the irony of it, though.
My best friend and I went to Newport, RI on Monday - it is such a pretty area. Of course, we found ourselves all kinds of edibles...
For lunch, I just HAD to order these ridiculous tater tots wrapped in bacon, served with cheese and BBQ sauces. So freakin' good! Don't worry, I ate a salad alongside this so everything was negated. Right??
Well, maybe not since I snagged a cone later in the day. But let's get real - who can resist a cone during a day by the waterfront? My beloved cookies n cream with jimmies. (Not sprinkles, jimmies.)
After wandering around downtown Newport, we hit up the Newport Storm brewery for a little tour and beer sampling action. Their blueberry beer is by far the best! Local people, give this one a go!
Alright, whew! Now I need to get to bed so I can get up bright and early for Crossfit. Gotta work off all these crazy calories off somehow!
Happy Wednesday!