This blogging train has slowly been chugging back to life. Got a couple of new recipes up recently, started a fun summer "ice cream party" on Fridays, and have been having more fun with my eats lately. And what better way to show some of 'em off than the epic blogging party, better known as
What I Ate Wednesday
!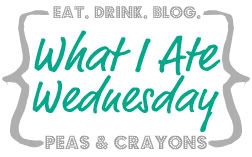 I liked putting together last week's post with a hodge podge of meals from the week prior. My breakfasts and lunches often tend to be repeats and that gets so boring to write about/photograph. So, instead let's see what randomness I enjoyed over the last seven days...
Chocolate chip cookie dough pancakes from In A Pickle. AMAZING!
Not quite as amazing but a pretty damn delicious classic combo: bacon and eggs.
Ribs and pulled pork nachos from Jonny B's at the Phantom Gourmet BBQ Beach Party.
I went last year too
- definite carnivore right here.
A sampler plate from the Aussom Aussie with a rib, pulled pork, and pulled chicken. Holy moly, was their pulled pork gooooooood!
Sweet potato salad! This new summer staple is my favorite thing to come outta my kitchen this week. Grab the recipe
here
.
My second favorite thing I made all week: a Caprese-style grass fed burger with marinated tomatoes, fresh mozzarella, garden fresh basil, and a lettuce leaf bun. Served with some of that fab sweet potato salad and grilled zucchini...
...and a few Grillo's pickle chips on the side. Love, love, love
these pickles
!
Three cheers for summer produce. A quick and colorful fruit salad makes me happy!
So does a little scoop of ice cream. Om nom nom! I'm not usually a plain vanilla fan but this stuff was pretty good. Tasted ever sweeter when it was on sale and I had a $2 off coupon. Yeah, bargains!
Banryu Ichi, a sake/beer combo from Cambridge Brewing Company. CBC brews their own beer, so it was cool trying some of their stuff and this was was a very interesting but quite tasty combo! Loved the presentation, too. According to
their website
, "the glass is set inside a
Masu
, a traditional cedar sake cup." Learn something new everyday!
Happy Wednesday!