Yes, again!
(Boy, I sure do fall off the blogging wagon in a rather spectacular fashion, huh?)
Anyways, happy WIAW! I haven't done one of these in
forever.
It is such a fun post to do but I made it into such a chore for myself, between trying to plan out some "fancier" meals to commenting like crazy on others posts. Don't get me wrong, I
love
leaving you guys some love on your WIAWs, but I was completely stressing myself out about the whole shebang.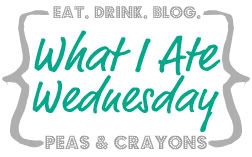 In an attempt to take a more casual approach, let's dive into Monday's eats.
After a wonderful Crossfit wod in which I ripped the bejeezus outta my hands, breakfast was indeed required. A couple of egg whites, some steak tips, and mango cubes made me forget about my hands. Temporarily anyway...washing the dishes rather sucked!
Shopping all morning with my mom and Memere worked up quite an appetite, so I scrounged together the most random plate upon arriving home. More steak tips (woo!), a couple of pickles, a slice of cheese, and a tomato salad - smorgasbord lunches rock!
That evening, my best friend came over for some girl talk and hanging out. It was rainy and we were lazy, so we kept it simple and ordered pizza. Omnomnom, I love me some pizza! No actual pictures of this but here's a funny one just because...
Okay, cool. I banged that post out lickety split and am feeling gooood about the blogging thang. Hopefully I'll see you guys sooner rather than later, aka not in a month!
:)