And we're back with another WIAW!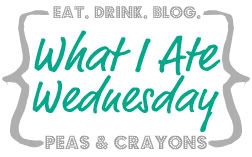 Or perhaps I should say WIAINYC?
Nah, that sounds weird.
Well whatever - this is What I Ate...in New York City! (Spoiler alert: nothing healthy! Whoops.)
Delicious mac n cheese from Macbar
Mac Quack w/ duck confit, caramelized onions, fontina cheese, and "fines herbes."
McSorley's
You only have two beer options here: light or dark. I went for light!
The Meatball Shop was fabulous! Great food and super reasonable prices.
Chicken cordon bleu slider, classic meatballs with classic red sauce, cheesy polenta, and a snickerdoodle & brown sugar ice cream sandwich.
Brunch at East L.A. in Hoboken, NJ
Huevos Con Chorizo: chorizo & cheesy scrambled eggs, rice, refried beans, tortilla, side of avocado. And a super strong mango margarita.
Grimaldi's!
Brick oven pizza topped with black olives! <3
Bagels & Schmear (Am I the only one who thinks the word 'schmear' sounds gross?!)
New York-style everything bagel with jalapeno cream cheese.
Pez!
Lots of different flavors of Pez from the factory tour in Orange, CT.
More pizza, this time from BAR in New Haven, CT
Mashed potato, bacon, and onion pizza. Heaven!
I was in a serious carb-coma after this weekend.
Bring on the veggies!