First off, I want to thank everyone for your kind 'get wells' last week - you made my day! Luckily, I'm feeling a lot better this week. :)
And I've got a delicious paleo recipe for you folks today, one that even non-paleo eaters will enjoy. So let's get this WIAW party started!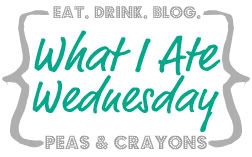 I got creative with breakfast finally and made something new! Okay, fine, the egg whites and bacon aren't new but see that thing in the back? A paleo German Apple "Pancake." Yep, this girl who doesn't like hot, mushy fruit made these...and liked em! Recipe to be posted soon - so head on back in a couple days!
Sushi lunch! Hard to believe that until a year and a half ago, my babe and I didn't eat sushi...and now we actually sort of crave it. So we hit up Asian Ginger and got spicy tuna, spicy crunchy yellowtail, and Philly rolls. (I think!) An order of pork fried rice and the fabulous beef satay rounded out our feast.
Funnily enough, I went for sushi the next day with a bunch of my Crossfit ladies. We got two enormous boats of stuff - it was insane! I honestly could've gotten into one of these boats and sailed away, that's how large they were. :) One of my buddies and I got a little daring and tried a few pieces of sashimi. Eh, not really my thing...I need the rice and veggies to offset the strange-ish texture of the fish.
Oh my gosh, this dinner was SO awesome! Cinnamon-Chili Rubbed Pork with Apple Salsa and sweet potato coins. The pork was tasty but the apple salsa took it over the top! I wanted to just eat it with a spoon - so fresh and flavorful.
Cinnamon-Chili Rubbed Pork Tenderloin w/ Apple Salsa
recipe slightly adapted from
Multiply Delicious
1 pork tenderloin (mine was about 1 pound)
Salt and black pepper
3 tablespoons olive oil
3 cloves of garlic, minced
1 tablespoon chili powder
1/2 tablespoon cinnamon
1. Preheat the oven to 400*. Cut off any extra fat and silver skin from the pork tenderloin. Season with salt and pepper.
2. With a whisk, combine olive oil through cinnamon. Add the pork and turn to completely coat. Let marinate about 30 minutes.
3. Bake the pork on a foil-lined baking sheet for 20 minutes, or until a thermometer reads 135 to 140*. Let rest 10 minutes before cutting. (Not only will this keep juices in but the internal temperature will continue to rise to 145*, the recommended safe pork temperature.)
4. Slice and serve with apple salsa.
Apple Salsa
2 medium Fuji apples, diced (about 2 cups)
1/2 cup diced red bell pepper
1/4 cup diced red onion
1/4 cup chopped fresh cilantro
1/3 cup fresh lemon juice
1 tablespoon raw honey
1/4 teaspoon each salt and black pepper
1. Combine all ingredients and stir well. Let the flavors marry by tossing it into the fridge for a bit.
If you make this, let me know how it turns out! How else would you use the salsa?
Have a great day everyone! :)
Oh, and check out this post yesterday about the weirdest cocktails and spirits! What have you/would you try?!
Can I interest you in some snake wine?