Between the snow piled up and the cold, I'm seriously over winter at this point. Hello? Paging spring, come in spring!
While warm weather and sunshine would be nice, all that tasty fresh spring and summer produce would be even better. As much as I enjoy cooking with squashes and cauliflower, I'm nearly over them as well.
Sigh. Its gotta come sometime, right?
Maybe a little WIAW action will lift my spirits! Let's give it a go...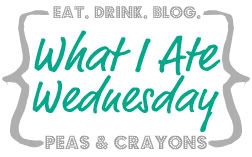 I've been loving this breakfast lately! "Oat bran" without the oats, topped with chia seeds and almond butter. Fantastic swap for my much beloved and missed oatmeal while I'm eating paleo.
"Oat Bran" Without The Oats
recipe from Carrots 'N' Cake
1/2 cup unsweetened almond milk
3 egg whites
1 banana, mashed
2 tablespoons ground flaxseed
1 teaspoon cinnamon
1/2 teaspoon vanilla (or almond) extract
1. Whisk together almond milk and egg whites. Stir in remaining ingredients.
2. Pour into a saucepan and cook until set. (This doesn't take too long, maybe 5 to 7 minutes?)
3. Top with whatever you wish - nut butter, seeds, fruit, raw honey, etc.
\
A recycled photo but one that I could use practically every week if I wanted to. The usual chicken and salad lunch....aka Snoozeville. I was doing pretty well at making enough leftovers to bring for lunch, but have definitely dropped the "prepping food" ball lately.
Steak, onions, and salad - a crazy easy dinner but a winner! I kept the steak simple, using only salt and pepper and broiling it to medium-rare. Sometimes the simplest method yields the best results.
What's your favorite whip together dinner? Always love those great ideas floating out in blog-land!
Have a great Hump Day! ;)