So, paleo update that I'm sure no one has been holding their breath about but that I feel the need to share: Since I got home from my trip, I've still been eating mostly paleo. During the week, I definitely cook paleo. It's annoying because eating paleo really does makes me feel better but man, oh man is it hard sometimes when I just want something smothered in cheese. (Nom nom nom!)
Anyway, so while I'm all cavewoman during the week, I've been a bit more lenient on the weekends, allowing some indulgences. This new "system" has been a good balance for now - I just gotta remember not to go too crazy on the weekends! ;) Life is far too short to forgo everything that I enjoy eating.
Thankfully, bacon is one of my "paleo-okay" foods (yes, always up for debate in paleo circles but no, I will never give it up) because it snuck into two different dishes yesterday! So, happy WIAW everyone and here's to some good eatin'...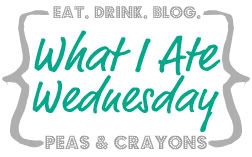 Breakfast was the usual egg whites but a sweet potato made a guest appearance! Topped off with some coconut butter, cinnamon, black pepper, and a bit of salt, they left me wondering why I don't eat them in the morning more often. A mug of steaming green tea and a view my gorgeous Valentine's flowers helped make this a winning breakfast. :)
Extremely random lunch alert! Right before lunch, I was prepping a crock pot meal and both the chicken and bacon were apart of it. Luckily, there was some of each left over because by the time I was through assembling it, I was hungryyyy. Strawberries rounded out my plate somewhat...
I met up with my best friend for dinner at one of our usual haunts and I dug into a steak tip salad. The steak tips pretty big and were done perfectly (medium-rare) so I was a happy cavelady!
This terrible photo is of the crock pot dish I mentioned earlier. Trust me, it tastes great but isn't the most photogenic. Whatever...it has bacon! I wrote about the recipe yesterday so check it out, if you're dubious about it's tastiness factor:
Crock Pot Bacon-Wrapped Chicken w/ Apples & BBQ Sauce
. And, it's paleo!
Darn, looking back at my eats now, I didn't eat nearly enough veggies yesterday. Oh well, I'll cram some extras in today! ;)
Alrighty then, no more strange looking photos for you this WIAW! Come back next Wednesday - who knows what I'll post then?! ;)