Happy Wednesday everyone! Another What I Ate Wednesday is coming at ya so get out your napkin and head on over to
Peas and Crayons
to check out the delicious party.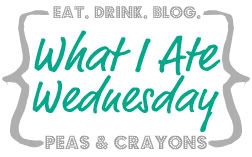 It was a hugely busy day over here at MassachusEATS, with lots of things coming outta my kitchen. So let's get to it!
Egg whites, avocado, cantaloupe, and green tea
Creamy Tomato Soup (paleo-ized!)
Cocoa-Toasted Cauliflower from Well Fed
Zucchini noodles topped with crock pot meat-and-veggie sauce
Busted out the dehydrator to make some banana chips!
Have a super Wednesday!
Ooh, and come back tomorrow for the recipe for these little puppies!