Time to blow the dust off of the What I Ate Wednesday files! It's been two whole months and
a wild African adventure
since I last joined in this foodie party and boy did I miss it!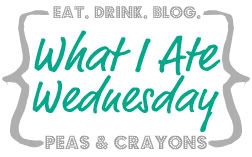 A big thank you to Jenn over at
Peas and Crayons
for hosting this weekly shindig. Now, if you'll excuse me, I have a couple months worth of food peeping to catch up on. ;)
Breakfast was something very different for me since I don't really like egg yolks, especially when they're runny. But with only one egg left this morning, I figured I should use it. And ya know what, it wasn't so bad when it was mixed in with avocado and tomato chunks! Of course, a couple of slices of bacon on the side didn't hurt.
A big salad filled with romaine, cukes, and red & yellow tomatoes was for lunch...as usual. On the side, I cut up a Trader Joe's Spicy Italian Chicken Sausage. Nothing fancy but a decent lunch though I gotta get a bit more creative in my lunches.
I had some basil and avocado languishing around so I whipped up a batch of avocado-basil pesto. It was perfect smothered all over spaghetti squash and roasted chicken. I'm looking forward to leftovers at lunch tomorrow!
Alright everyone, that just about wraps it up - have a wonderful day!