Hey guys, welcome back for another round of WIAW!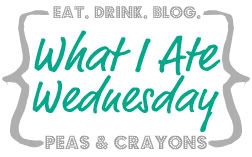 Hope you've all been having a great week so far!
Egg whites, avocado, & tomato
Okay, so I haven't been straying too far from my favorite breakfast, which makes me rather predictable at this point, I suppose. But that's okay. It sure makes my hectic mornings a lot easier when I already know what I'm gonna eat.
Sticky chicken drumsticks
These drumsticks came out very yummy so I will be sharing the recipe in the future. I was pretty psyched when there was a few leftover for my lunch and that they kept well. Had a salad on the side but that doesn't photograph as beautifully as these pups did.
Taco seasoned chicken strips with guac
Though the seasoning recipe I used for the chicken wasn't my favorite (too salty!), I loved this idea and will definitely be recreating this in the future. Super easy and quick, too.
Heath Bar Trifle
I finally got a chance to use my trifle bowl over the weekend for a Christmas party! :)
Oh, and in case you missed it - I made an exciting and big announcement on Sunday so
check it out
!
Have a good one!!!!