I hope everyone had a great Thanksgiving and lots of fabulous eats!
I chowed down on a ridiculous amount of food (and possibly wine...) and everything was delicious. My mom sure is a great feast maker! Thanks Mom! :D
Before we get to the WIAW stuff, check out the pies that I made this year. I was (and still am) pretty darn psyched about how pretty they turned out...
Even though our paleo challenge is technically over, I'm still going to try and eat mostly paleo during the week. I felt much better (both physically and in my energy levels) when I kept to it so why mess with a good thing? However, I am going to allow myself a little bit of cheese here and there. I really enjoy cheese and (excuse the drama queen for a minute) but what's the point of living if I gotta deprive myself all time time? That being said, it'll be more as a "garnish" rather than the star and it certainly won't be eaten in copious quantities. Except on cheat day...then all bets are off. ;)
Okayyyy, now that all that is outta the way, let's WIAW this post up.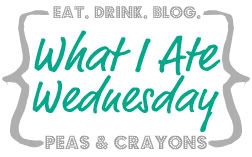 Egg whites topped with creamy pesto, bacon, and a banana. The garlic breath first thing in the morning was worth it because this breakfast was deeeeelish!
Avocado Turkey Salad.
Utilizing some of that leftover turkey made for a super quick lunch. Click
HERE
for the recipe.
Balsamic and Onion Pot Roast. This was totally fantastic and will definitely be repeated around here! I'm drooling thinking about it now and am wondering if this weekend would be too soon to make it again... I posted the recipe yesterday so check it out - it is freakin' good!
And that about does it. No snacking around here really because these "three squares" kept me full for once!
Have a great day! :)
What was your favorite thing you ate over Thanksgiving or the past week??