I definitely dropped the ball and didn't take any meal photos this week.
But have no fear, there will still be a WIAW post this week (obviously) since I have a little stash of previously unposted breakfast photos to share in place of the usual three squares!

Why breakfast? At first, it was for no reason other than I seem to just have a backlog of morning meal pics. (Which is strange since I usually seem to eat the same breakfasts over and over again!) But it got me thinking that it'd be fun to share a bunch of one meal all at once, so I think I'll make this into an informal series. Lunch, dinner, and snack round-ups to come in the future. :)

[Oh, quick disclaimer: unless otherwise noted, these aren't all paleo.]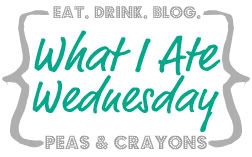 Eggs and paleo pumpkin bread, topped with almond butter & coconut spread
Egg whites, avocado, and cranberry-orange bread (recipe coming soon!)
Egg whites and paleo pumpkin pancakes
Eggs, leftover steak, and thick pita bread
Banana waffles
Egg whites (unpictured) and paleo biscuits (recipe HERE)
Egg whites and French toast, topped with banana slices and slivered almonds
What are some of your favorite breakfasts?
Have a wonderful Wednesday!