I'm running out of ways to introduce the weekly WIAW posts so I'll just jump right in today with a big old Happy Wednesday everyone!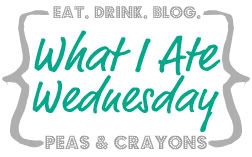 Breakfast was super yummy for one reason and one reason only: bacon! Okay, so the egg whites and blackberries were good, too, but let's be honest here - bacon steals the show. Let me tell you how hard it was to stop at three slices...I'd rather have just cooked up the entire package but I showed some restraint. Miracles do happen.
Just so no one is totally creeped out: the plates say 'eat your heart out,' not just 'eat your heart.' That'd be a little too morbid, even for us. ;)
And since I was still drooling over the lingering bacon smell in my house, it definitely made another showing at lunch. Egg whites and bacon all snug inside an Improveat wrap, which are made with paleo approved coconut! This was deeeelish... I had a salad a little while after this but who wants a picture of that when there's bacon porn? ;)
This thrown together dinner actually ended up being really awesome and incredibly filling. A couple of spicy sausages; roasted acorn & delicata squashes with coconut spread, salt, & pepper; and some peppery kale chips. This will probably be repeated tonight because I'm sort of obsessed with all of these components at the moment.
Well, that just about does it for me today. If you want more, I wrote about some yummy fall/pumpkin beers on Monday and reviewed a great Asian/sushi place on Sunday.
Enjoy your day! :)