I was reading through an issue of Woman's World magazine and stumbled across an article about volunteering. Turns out, I'm part of the 73% of people who say "lack of time or money is holding us back from lending a hand." Unfortunately, that's an absolutely true statistic. Luckily, the article had some great ideas on how to help without needing bucket loads of cash or required lots of your time. One of my favorites was
Charitii.com
, which has been in operation since 2008.
On Charitii, you solve simple word puzzles and, for each correct answer given, a donation is given to your selected charity. There are different charities available through the site, including charity:water, Invisible Youth Network, The Nature Conservancy, The Oaktree Foundation, and the Philippine Aid Society. So, choose the one you'd like to donate to and answer away - super easy, right? While I still want to actually get out there and personally volunteer, by playing five minutes a day I'm still contributing something!
Okay, I'll step off my soapbox now and let's switch gear to the ever so wonderful What I Ate Wednesday!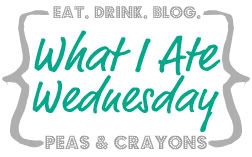 I was rushing around trying to get ready for work so I threw my usual egg whites into a bowl with avocado and tomato chunks. Oh, and obviously a ton of black pepper...addicted to that stuff. A fruit leather thingamajig rounded off breakfast.
Roasted apples and baby Brussels sprouts made for a very different snack today. I like the baby Brussels better than the normal sized because they don't have that tough core. Plus, they're so little and cute!
I carnivored up my usual lunchtime salad with a buncha steak. Om nom!
This paleo-ized egg salad went great with another smaller (steak-less) salad at dinner. I pretty much made the egg salad the same way as paleo chicken salad, seen
HERE
.
"Ice cream" made with frozen bananas and strawberries was a nice post-dinner treat!
Enjoy your day and happy WIAW! :)
(Note: Charitii.com did not endorse or in any way promote this blog post. This is a product I personally use and enjoy. All opinions are strictly my own.)