So there was a couple of days last week that my eating paleo kind of took a backseat. I had a feast at
LOCO Tapas
with my best friend one night...out for Mexican with my babe another evening...and a plateful of butternut squash ravioli washed down with a couple of Shipyards reminded me it was fall. Oh, and
this behemoth DEFINITELY happened
:
What??? Birthdays are a valid excuse, right? ;)
Anyway, so I've been trying to get back on track this week. It was certainly a delicious few cheat days but I think my body was more than happy that I started treating it right again!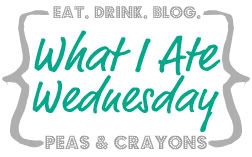 Is this the new usual breakfast? In the course of doing these WIAW posts, I've come to realize that I totally get stuck on certain breakfasts for quite awhile. First it was
oatmeal with cookie butter and banana
. Next came
eggs and avocados
. Apparently it is now
egg whites, a two-ingredient pancake, and fruit [blackberries, on this day].
Served up on this day with a cup of my new favorite tea:
Bigelow Green Tea w/ Pomegranate
.
Well, obviously I'm sticking with the usual lunch, too - always that same salad with cukes, tomatoes, and chicken. BUT...today I had something new with it! Paleo Pumpkin Risotto, found over on Clean Food, Creative Fitness. It was my first time making any kind of cauliflower rice and I thought that it came out pretty well. My next head of cauli is already earmarked for "fried rice."
Dinner ended up being much more amazing than I was anticipating...and much more than this picture shows. This paleo chicken and veggie stir-fry had the BEST sauce and was an excellent combo of chicken, carrots, zucchini, peppers, and asparagus, all topped off with tomatoes after cooking. I only wish that I had pineapple chunks and water chestnuts to throw in there. Ah well, next time...which is probably be sooner rather than later.
*In case you missed it, check out the funny food news post from yesterday!*
Happy WIAW everyone! Have a nice day! :D