This totally has nothing to do with anything but I was wondering what kind of cameras you guys all use. I'm hoping to get a new one soon. The Sony Cyber-Shot I have now is good but its a few years old now and has been around the block and back. Any recommendations, particularly the point-and-shoot variety? Thanks in advance! :)
Okie dokie, let's get down to the
WIAW
end of things!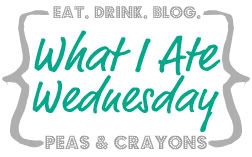 Breakfast was the new usual -
egg whites, avocado, and fruit.
Sorry for the recycled photo but why take a new one when I ate the same
thing, right? And yep, I'm still pluggin' away at
all those apples
.
A tomato salad and teriyaki steak was lunch. The steak was leftover from dinner out on Saturday night. Okay, so at dinner this was served to me drenched in an ENORMOUS puddle of super salty teriyaki sauce...like, half a bottle's worth, no lie.
I ate half of it and then had the rest wrapped, with the request not to put any of the sauce in the takeout box. I hate wasting food so I was thinking I'd take it home and like, wash it or something lol. Luckily, it didn't come to that - the steak was actually really good at lunch; it must've mellowed out after it's stay in the fridge.
@%$&#*! That first slice of frittata is a pain to get outta the pan. Served with a side salad, dinner was super easy with this Zucchini and Sweet Potato Frittata. Copy this one down, folks - it was fantabulous!
Zucchini and Sweet Potato Frittata
2 tablespoons coconut oil
1 large sweet potato, peeled and sliced
1 large zucchini, sliced
1 large bell pepper, sliced
8 eggs (or as I did, 6 whole eggs & 2 whites)
Dried basil, salt, and black pepper to taste
1. Heat a large saute pan (one that'll be able to go under the broiler!) on medium heat. Melt the coconut oil.
2. Add the sweet potato and cook until softened, about 8 minutes, stirring carefully and often.
3. Add the zucchini and bell pepper and cook 4 more minutes, continuing to stir. Turn the heat to low.
4. Whisk the eggs, dried basil, salt, and pepper together very well. Add to the saute pan and cook until just about set, about 10 minutes. Preheat broiler.
5. Stick the pan under the broiler and cook until top is set and golden brown.
6. Cut into 4 wedges and serve. I like mine with hot sauce and/or salsa.
I ended the day with a slice of this
Paleo Bread
from
Elana's Pantry
. Made with almond flour, coconut flour, and ground flaxseeds, it was slightly nutty and had a great soft texture. I'll definitely be making this one again.
Happy WIAW everyone!