This year's pumpkin - Frank the Bunny from Donnie Darko, one of my favorite movies. Photographing jack-o-lanterns is difficult!!
If you're looking for something spooky to whip up tonight, might I suggest
a heapin' helpin' of Dirt
? Don't forget the gummy worms! ;)
Well, for the last two days I've been on a cleaning binge. Huge fridge and pantry purging, weeding through my closet, and getting rid of all those piles of papers that seem to crop up ever so quickly. So, when I came across a couple pieces of tarnished jewelry, I was already on my A game. Problem was: I didn't have any jewelry cleaner...and I sure as heck wasn't running out into the rain just to get some.
Instead, I queried good ol' Google for a solution and found one using items I already keep on hand - aluminum foil and baking soda. Throw in some boiling water and you got yourself some shiny silver! Click
HERE
for the super simple (and chemical-free!) directions.
Anyways,
happy WIAW
! I've got another yummy paleo-filled day of eats for you, including a couple of new found paleo approved products.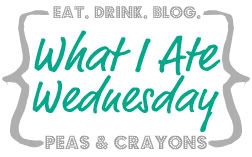 Lunch: Yep, that's my usual salad (the chicken is unpictured) and half an acorn squash with coconut butter, salt & pepper
I feel like every paleo substitute ever is made using coconuts haha. Anyways, I recently discovered these two new items:
Earth Balance's Coconut Spread and Improveat's Pure Wraps.
The coconut spread tastes great (not overly coconutty) and it melts just like dairy butter. I haven't used it in baking yet but will update the blog when I do. And the wraps are a pretty good substitute for "normal" wraps. They are very thin and have a slightly strange texture at first, but I quickly adjusted to them and am now a fan. They are made from only coconut meat, coconut water, and Himalayan salt. :)

Have a spooky day!!