It is the last

What I Ate Wednesday

of September. Next time I see ya all, it'll be October - my favorite month. I love it because we celebrate two awesome holidays that month:

H

a

l

l

o

w

e

e

n

and

m

y

b

i

r

t

h

d

a

y

!! ;D
Buuuut, I guess I should calm down since we're still a week away. However, consider this your fair warning: I might be a bit excitable in the coming weeks! Haha.
Thanks as always go out to
Jenn
for hosting this food porn party. And many thanks to everyone who posts their yummy meals because I've gotten some fantastic ideas through you all.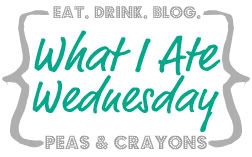 Breakfast probably looks familiar from the past couple of WIAWs. I'm still obsessively eating 4 egg whites, half an avocado, and a piece of fruit...with water and green tea. Hey, there could be worse obsessions to have. This is a winning combo of protein, healthy fat, and fresh fruit that fills me right up after my Crossfit classes.
We've been feeling the fall chill around here lately so a hot lunch is a nice treat. (And so is busting out away from my usual salad.) I did enjoy a small side salad alongside a homemade paleo turkey sausage patty and sweet potato wedges. The sausage is pretty good but not perfect yet. I'll be sure to share the recipe once I get it down!
My babe and I picked approximately 392 pounds of apples over the weekend so a batch of
homemade applesauce
was a total must. I'm sure all of you already make/know how to make applesauce but I shared the simple directions
in this post
for anyone interested.
Grilled balsamic chicken and spaghetti squash with pesto rounded out my day's eats. I made this pesto using cilantro and walnuts, rather than basil and pine nuts. Pretty decent though it definitely would've benefited from some grated Romano but...that's not very paleo, is it? ;)
Before you run off to read someone else's blog because I'm all "paleo and boring," give my most recent Fried-Day post a glance to find out where you can try these amazing fries!
The week is already half over - Happy Wednesday! :D