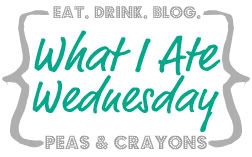 Happy WIAW everyone!
It's my third week of eating Paleo and its going pretty well and getting a bit easier. Though I totally had a cheat day this weekend and it...was...awesome! However, I'm not gonna say a lot here today because I want to share this fun mealtime survey I saw over on
Jessie Loves to Run
. The teen girl in me has always loved filling out quizzes and reading other people's answers. So, I hope that you guys will share your answers with me! :)
Breakfast: Egg whites and raspberries
Breakfast Questions
Favorite breakfast as a child?
Bacon. (Still is!)
Coffee or Juice?
I don't drink coffee at all and juice so rarely. Usually its just water.
The one food you eat most often at breakfast?
I go through phases where I'll eat the same thing for weeks. Right now, its eggs; before that, oatmeal.
Yes, that is my fridge right now. What?! They were on sale, $1 a dozen!
Lunch: Salad w/ chicken *Shocker, I know*
Lunch Questions
Sandwiches are generally considered a "lunch food." If you had to choose between a grilled cheese and a peanut butter and jelly, which would you pick?
Grilled cheese. I <3 cheese in any way, shape, and form.
You can only put four ingredients in your salad (not including greens); what do you throw in the mix? Additionally, which greens and dressing do you pick?
I'd throw cucumber, tomato, black olives, and grilled chicken on top of my spring greens. Top that all off with balsamic vinegar, olive oil, and black pepper.
One food you can't live without at lunch?
Salad - I eat it almost every day.
Dinner: Cobb salad minus the bleu cheese (and that bread) :( from CBS Scene
Dinner Questions
It's the end of the day. You're tired, hungry, and your fridge is empty. If a fast food (from a chain) is your only option, where do you go and what do you order?
Taco Bell! #7: a chicken quesadilla, a soft taco, and one of them huge cups filled with fruit punch. Extra Fire sauce, please!
TV/computer on or off while you're eating?
Usually one of em is on, though I know its really better not to use them during meals.
The one food you eat most often at dinner?
Chicken. How boring, right? I wish it was pizza.
Snack: A couple spoonfuls of almond butter ;)
Dessert Questions
Choose between these two American desserts: cheesecake or apple pie?
Cheesecake with some kind of chocolate in it. I don't like fruit pies at all - bleh.
Choose between these two foreign desserts: tiramisu (Italy) or flan (Spain)?
Flan...tiramisu looks good but I hate the coffee flavor.
Ice cream: cone or cup?
Sugar cone!
Enjoy your day!