Well, it might be called What I Ate Wednesday but I'm gonna be sharing my Sunday noms with you guys this week. It was a bit different of a Sunday since my babe and I were out 'n' about all day long and so we ate every meal out. That certainly doesn't happen often! Especially because, as you'll see, I have a hard time keeping it healthy when I'm out to eat. Oops.
But! We also didn't snack
at all
(shocking, I know) so I can't really follow this month's theme. Next week, I'll share some of my healthy snacks...and a healthier WIAW...with yas. ;)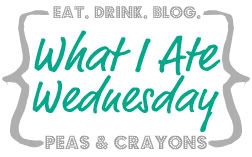 Breakfast: Kielbasa & American cheese omelette; home fries; English muffin w/ butter; glass of OJ
We started our morning off at the Bristol Square Cafe in Walpole. My brother works here but was off on Sunday, so no cookin' from him. :( If you're ever in the area, grab a quick bite here! Really awesome breakfast & lunch and great prices.
Lunch: "Joe" Mamma's Steak Wrap; French fries
Before I say anything else, look at my fries. This is the way to do fries, people! #happydance The steak in my wrap was pretty bomb, too! Peppers, onions, and mushrooms rounded out the sandwich. This is from Joe Sent Me in Waltham...grab yourself a seat on the back patio in the nice weather.
Dinner: Baby back ribs (in Dixie Kiss sauce); mac n cheese; BBQ baked beans; cornbread
YUM! I am definitely a ribs girl...messy food always tastes the best. If you wanna find out more about this meal and where it's from, check out my latest review post!
You're turn! I'm off to stalk some blogs. Have a terrific day! :)
How do you spell it: omelet or omelette?
While we're on the subject, what about: gray or grey?