Happy Wednesday everyone! This is gonna be a short and sweet WIAW post for me today so apologies in advance. :)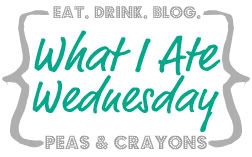 Breakfast: Egg whites; sprouted multi-grain toast w/ PB&J and chia seeds; raspberries
Loving this multi-grain sprouted bread that I picked up at Trader Joe's last week - it toasts up fabulously.
Snack: Nakd Cocoa Loco bar
While I liked the banana bread flavor a hair better, these Nakd bars are pretty awesome. They're made with all natural and
real
ingredients - no crap in em! I won these in
Marisa's British foods giveaway
and am now hoping I can track them down in a store near me. *crossing my fingers*
Lunch: Spinach Salad w/ all sorts of yummies; marinated chicken [unpictured]
I spotted this
RecipeGirl recipe
on Pinterest and
immediately
pinned it. And I'm ever so glad that I did! There was so much going on in it - spinach, fresh corn, sweet tomatoes, creamy avocado, crumbled goat cheese, and toasted pine nuts - that it made quite the interesting salad. I ate my chicken on the side, rather than in it - I didn't think that the salad dressing and my marinated chicken would work well together. ;)
Snack: Fruit salad; spoonful of natural peanut butter
Cherries, blueberries, and grapes, oh my! Sometimes the simplest snacks are the very best.
Dinner: Cobb Salad with all the good stuff [unpictured]
My best friend and I were going to go to Bar Louie for their $1 burger night tonight, but the place was paaaacked. So, we ended up over at Red Robin...with a couple of salads. Lol :) Guess I was in a big salad mood today, huh?
Have a great Wednesday WIAWers!