Before we jump into the food porn, I saw this yesterday and it made me crack up! This is definitely something I do...
...well, not the throwing away of the food part! That would be blasphemy. ;)
Anyways, I had fun showcasing my weekend eats a
couple weeks ago
, so I thought that I'd do it again for this week's WIAW! Thanks to everyone that stops by each week and a
big thank you
to Jenn for hosting each and every week. I'm so glad that I started participating!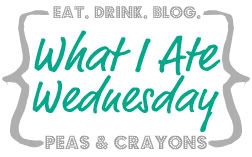 Breakfast: Scrambled egg whites w/ cayenne; ham steak; whole wheat toast; strawberries
Deeeelish way to start a Saturday!
Lunch: A grilled vegetable pizza and Ithaca Beer Company's Flower Power IPA
We sat out on the roof deck at CBS Scene and enjoyed the gorgeous sun and blue skies after a week of mostly cloudy, rainy weather! The veggies on the pizza were great - soft but still a bit crisp - and the beer was oh so refreshing.
Lunch Dessert: Heath Bar Crunch ice cream (from Crescent Ridge Dairy)
Lunch dessert is a thing, right?! ;)
Dinner: Grilled flank steak; corn on the cob; salad; one of our raspberry wheat home brews
Boy, do I love summertime cookouts for dinner - grillin' n chillin'! :) Random asides: I always sprinkle my corn with chili powder - you totally hafta give it a try sometime. And our raspberry beer is coming along nicely....great taste but it needs a bit more time in the bottle to carbonate.
Dinner Dessert: Cookies N Cream Popcorn
After seeing this around the Internet and on Pinterest a zillion times, I finally made it! And it was the absolute best snack while my babes and I watched Breaking Bad and relaxed. Well, I say we relaxed but really, some of the episodes make you feel anything but! Lol anyway, click HERE for the recipe. :)
On Sunday, we went to a friend's barbecue and I made these:
Caprese bites! They are so freakin' adorable and oh so tasty...and simple to boot! It doesn't hurt that I am a complete sucker for Caprese anything.
I absolutely cannot believe that it is going to be Memorial Day this weekend. I'm praying for a sunny weekend and lots of grilling. ;) Thanks again for stopping by and Happy Memorial Day!
Do you have any fun holiday weekend plans?
What is your favorite thing to toss on the grill?