Hey guys - welcome back for another week of eats!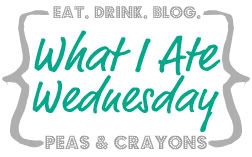 While not everything was a success this week, everything was tasty nonetheless.
What was supposed to look like this...
...ended up looking like this:
Bahaha epic fail. I followed the directions exactly so I have no idea what the heck happened. Oh well, I'll just hafta give it a try another time. It still tasted okay, so at least it wasn't a waste of ingredients. :)
Breakfast: The mess detailed above; an English muffin, egg white, and cheese sandwich; nectarine
Yeah, it was sort of a big breakfast but I was hungry with a capital H - that morning's Crossfit WOD had kicked my butt.
Lunch: Spicy quinoa salad; balsamic marinated chicken
This salad was SO simple to whip together but very good. One suggestion: double the "dressing" recipe or it might be a tad too dry. It is from the new cookbook The Quintessential Quinoa Cookbook by Wendy Polisi. I rarely buy cookbooks anymore but I'm going to have to make an exception for this one! Color photos of every dish...recipes for everything from breakfast to apps to mains to desserts (!)...nutritional info for each meal...and tips for making each recipe cleaner, vegan, or gluten-free. Anyways, the recipe is below, for anyone hungry!
Dinner: Tomato & cuke salad w/ balsamic; Quinoa Black Bean Soup
Yes, the soup is from the same cookbook. And yes, it looks pretty similar to the above salad. But it was different enough for me to want to make it for dinner! ;)
Dessert: Graham crackers w/ peanut butter
Enjoy your Wednesday, fellow WIAWers! <3
If you're interested in reading more, check out my latest two posts:
Spicy Quinoa Salad
The Quintessential Quinoa Cookbook by Wendy Polisi
3 cups cooked quinoa (1 cup uncooked)
2 cups corn
1 red pepper, chopped
2 Tb fresh cilantro, chopped [I used more, about 1/4 cup]
2 Tb fresh lime juice
1/2 Tb olive oil
2 cloves garlic, minced
1/4 tsp chipotle chili powder
1/2 tsp smoked paprika
1/2 tsp salt
1. In a large bowl, combine quinoa, corn, red pepper, and cilantro.
2. In a small bowl, combine lime juice, olive oil, garlic, chipotle chili powder, smoked paprika, and salt. [As I mentioned above, I doubled the dressing.]
3. Toss dressing with quinoa mixture and serve at room temperature or chilled.
Serves 4
Per serving: 243 calories, 5.2g fat, 43.4g carbohydrates, 5.7g dietary fiber, 8.6g protein