Hey, I hope that everyone had a great long Memorial Day weekend! The weather here in Massachusetts was absolutely perfect! :)
I went to my first Red Sox game on Friday, thanks to my babe and the company he works for. We had fabulous suite seats and witnessed a bench-clearing brawl!
Saturday was mostly spent at the Reebok HQ, watching the Crossfit Regionals. Some of the workouts were INSANITY...one WOD was something like, 900 reps of work. I was glad that I was just watching that day! ;)
Sunday and Monday were both spent by the grill, eating way too much and spending time with friends. #perfect
One of the best sights in the world ;)
Not trying to brag, but my pasta salad is pretty slammin'!
Long weekends are awesome - the work week is now already half over! And that means it's WIAW time! (AKA the one post a week that is a guarantee on this site, though I swear I'm trying to get better!) Anyway, without further ado...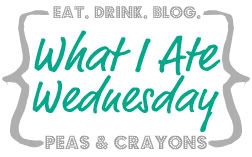 Breakfast: Oatmeal w/ chocolate protein powder, chia seeds, & ground flax
I
finally
got tired of eating the
same oatmeal
practically every morning. I can't bear to retire the oats just yet, so I've been mixing up new combos.
Snack: Fresh raspberries
My favorite berry...I can legit plow through an entire container in one sitting, though I try to show some restraint.
Lunch: Leftover steak tips on a salad
Nothing fancy here but gotta use up those leftovers somehow, right?
This is seriously one of the BEST salads I have ever had! Everything was so flavorful, yet worked perfectly together. And it was super colorful to boot. Romaine, grilled chicken, red peppers, Mandarin oranges, green onions, cilantro, dried cranberries, and sesame seeds, all drizzled with an orange-y dressing...heavenly. You must make this salad this summer! :)
Snack: Watermelon
I can't tell you enough about how amped I am that all the amazing summer produce is back!!! :D
Have a lovely day, all!
Anything fun to share from your holiday weekend?
What's your favorite summer produce?