Woah, so the new Blogger setup is apparently here. I knew it was coming but was still rather surprised when I logged in to type this up! It seems as though every social media outlet I use has changed somewhat. Guess they just wanna keep us on our toes. ;)
Anyway, I just realized that I have yet to chronicle this month's Fried-Day! So, keep your eyes peeled for this Friday's newest deep fried treat. Might I suggest
Oreos
,
bacon
, or
PB&J fried dough
to heat up those fryers??
On to healthier side of things, we have come to another What I Ate Wednesday. I have been having such a blast browsing everyone's blogs each Wednesday and scoping our your eats. There are so many great ideas out there that I've filed away for future meals. My kitchen - and tummy - thank you all! But especially
Jenn
who organizes this each week. :)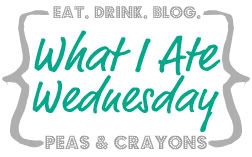 Breakfast: Scrambled egg whites w/ tomato & feta; whole wheat bagel thin with PB
Can you believe it?! I finally strayed from my favorite bowl of oatmeal. Betcha didn't see that one coming. :P It was a nice change of pace, but I can't lie - I sorta did miss my oats lol! Good thing my pal peanut butter was there to help me through it.
On my way out the door, I decided I needed a quick snack and this fit the bill. They are pretty tasty little bars. Although yesterday I read about Kashi using GMO soy in their products and now I'm a bit skeeved out...
Lunch: Half a whole wheat wrap w/ chicken, hummus, lettuce, & tomato (from a local pizza place)
I completely forgot the photograph this! I flew home from Crossfit staaaarving and it was gone before I knew it. Ah well - it was leftover from a day before so it wasn't that pretty looking anyway. ;)
Dinner: Creamy Vegetable Soup topped w/ cheddar; another bagel thin, topped w/ slices of cheese & tomato
So the soup. Yes, it doesn't look overly appetizing but looks are deceiving - it was great! It is a recipe from 400 Calorie Fix and it is chock full of delicious veggies: broccoli, cauliflower, mushrooms, onion, as well as some cannellini beans. Once everything softened up in some veggie broth, I took a stick blender to it and smoothed it out. The beans and vegs gave it a perfect creamy texture, without any added milk, cream, etc. Yum!
Dessert: A slice of Strawberry Banana Bread
This was SO good! Certainly not a light recipe but worth the splurge. I definitely think that the sugar could be reduced, especially since strawbs are pretty sweet on their own. The recipe was one that I'd found floating around on Pinterest (click to follow me, if you'd like!).
Strawberry Banana Bread
from: Pass the Plate's blog
1/4 cup unsalted butter, melted and slightly cooled
3 ripe bananas
1 cup granulated sugar
1/4 cup plain Greek yogurt
2 eggs
1 teaspoon vanilla extract
1 1/2 cups All Purpose flour
1 1/2 teaspoons baking powder
1/2 teaspoon baking soda
1/2 teaspoon salt
1/2 teaspoon cinnamon
1 cup strawberries, diced
1. Preheat oven to 350 degrees. Grease a loaf pan.
2. In a large bowl, mash bananas. Add butter and sugar; mix well. Add yogurt, eggs and vanilla; mix well.
3. In a separate bowl, sift together flour, baking powder, baking soda, salt, and cinnamon. Add dry ingredients to wet; mix until just combined.
4. Fold in sliced strawberries.
5. Pour batter into prepared loaf pan. Bake 55-60 minutes. Cool in pan, on a rack. EAT!
Well, that just about does it for me. If you try the bread, let me know how it went! Happy Wednesday! :D