This gorgeous weather has got me pumped up! I love not being bundled up in a sweatshirt, running outside without gloves, and soaking up some of that warm vitamin D. :) Well, I suppose I do have
one
complaint: all of the damn bees buzzing about! Yeah, yeah - I know how great and important to the ecosystem they are. But I intensely dislike bees because, on more than one occasion, I have had the misfortune of them flying into my face and stinging the shit outta me...for no reason. Seriously. I'm gettin' real good at ducking and dodging, however...
Anyways, I know you aren't here to read about my various phobias. You're here to see some eats! Can't blame ya - that's the reason I frequent this little corner of the blogging world too. So, a big ol' thank you to
Jenn
and all the others who make WIAW fabulous - let's get this started! (By the way, did you all see Jenn's
Zucchini Cups
?! Omg drool, def happening asap!)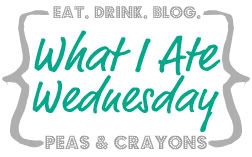 Breakfast: Oatmeal w/ banana, cookie butter, chia seeds, and ground flax
Sorry, I'm sure you are already sick of seeing this breaky pop up on my WIAWs. But I don't think I'm quite ready to stop eating it yet. Not only does it taste
amazing
, but it keeps me totally full until lunchtime! Very few other breakfasts successfully do that for me.
Snack #1: Strawberries
Nothin' like some juicy red strawberries...well, except maybe raspberries. ;)
Lunch: Grilled chicken and salad (lettuce, cukes, tomato, red onion)
Another staple meal here but, again, it always does it's job at keeping hunger at bay. Except when I'm at work and there's a damn jar of chocolate eggs staring me down... Must. Resist. The. Chocolate. *smacks hand away*
Snack #2: Baby carrots w/ kalamata olive hummus
I forgot to snap a pic - apologies! Anyway, this hummus from Trader Joe's is fantastic! I <3 olives, so I immediately snatched this up without a second thought.
Dinner: Pulled pork slider w/ coleslaw, sweet potato-pecan pudding, and cucumber salad
This was a special little nosh! My babe won a couple entries to a local AAA to learn about the Phantom Gourmet cruise. Aside from that, the local
Firefly's BBQ
would be providing noms and they have pretty killer BBQ! Oh, and did I mention that all three of the Andelman brothers - Dan, Dave, and Mike - would be there?! They are the awesome guys behind the fabulous Phantom Gourmet. [For those of you not in the area,
go here
to find out what you're missing!] I am a
huge
fan of the show and their events, so it was kind of a big deal for me. ;)
My babe, Dave, Mike, me, Dan!
Well, that's about it from me this week. I'm off to check out what you've been chowing down on and get some new breakfast ideas. (
Maybe...)
Have a wonderful Wednesday and an even better week!