After a two week posting gap, I'm back! I'm not going to bore you with the details, but I am happy to be posting again...especially a WIAW! Thanks to Jenn for hosting every week. Be sure stop by her blog to check out her WIAW post and the other bloggers' link up :)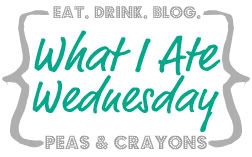 Breakfast: Oatmeal w/ banana, cookie butter, chia seed, and ground flax
Yep, this picture is a repost from the
last WIAW
. But, seriously, I can't stop eating this for breakfast...pretty much every day. Love it!!
Lunch: Whole wheat spaghetti with roasted red peppers, walnuts, and goat cheese
This was leftovers from the night before and, boy, was I looking forward to it! I got the recipe from Fitness magazine and followed it pretty much to a T.
Dinner: Grilled chicken, baked sweet potato, and spicy steamed broccoli
A quick, healthy, and filling meal. Not much to add to this except that I'm psyched to be grillin' again!
Snacktime: Strawberries
Seriously, look at the size of that thing! It doesn't look as impressive online as it did in person but...that berry on the right is the typical size of a strawberry.
Well, that's all for now. I've been trying to quit snacking so often, particularly at night. It is still a bit hard when I'm just veggin' on the couch at the end of the day, but it has gotten easier. :)