Welcome back for another installment of What I Ate Wednesday!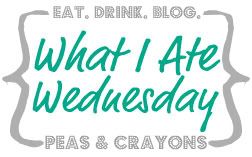 I hope everyone had some great food and even better treats on Superbowl Sunday - I know I sure did. Venison chili, buffalo & spicy Asian wings, cheese fondue, stuffed shells, cookie dough dip (!!!)...oh man, I don't even know what else. Not to mention the "couple" of Bud Light Platinums I might have sipped... At any rate, I'm glad to be back in the eating healthy routine!
Breakfast: English muffin w/ peanut butter & jelly; egg whites w/ cayenne; strawberries
I truly cannot wait for all the yummy summer produce to be back in season. These were a pretty decent deal - 2 pounds for $4 - and looked mighty tasty, so I couldn't pass it up. Thankfully, they were flavor-ific!
Lunch: Sun-dried tomato & basil stuffed chicken breast; salad w/ cuke, tomato, balsamic vinegar
This was a leftover dinner. Honestly, I wasn't too impressed with the stuffed chicken recipe. It was rather bland, considering the highly flavored ingredients. Currently looking for a new one to try out, so let me know if you have any suggestions!
Dinner: Light pasta carbonara w/ turkey bacon, peas, & basil
Yum! The only change I would make next time is to use whole wheat spaghetti. I was out of it, unfortunately, because I actually prefer it.
I forgot to snap pictures of my snacks this week. I'm the nanny of a 21 month old so sometimes things can get a little crazy at work lol. ;) I munched on some red seedless grapes that morning and had a Chobani blood orange yogurt for my afternoon pick-me-up.
Off to see what you guys ate this week!
What did you all snack on during the Big Game?