Happy Wednesday...and first day of February! January absolutely flew by with lots of healthy cooking (well, some treats definitely snuck in there too lol) and some great new experiences.
Two weekends ago, I went up to Mount Snow in Vermont to go snowboarding for the first time and surprised myself by liking it, especially since I HATE the snow and cold. The first two days went pretty well, considering I was a complete newbie. :P However, on my first run on the last day, I wiped out pretty badly and ended up spraining my wrist. (Another first! My worst injury to date.) Luckily, it was not my favored hand so I could still function decently enough. Despite the fall, I can't wait to get back on the slopes and practice, practice, practice! Anyways, my wrist is feeling a lot better and I'm looking forward to what February brings!
Enough of my babbling, let's get to the eats! [Click the button for more great WIAW menus.]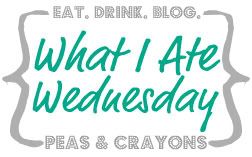 Breakfast: Oatmeal with PB2 and cinnamon; egg whites with lotsa cayenne pepper
I love PB2 in my oats. Regular peanut butter sometimes adds a strange gummy or "too creamy" texture. PB2 is powdered, so it eliminates that issue AND it is lower in fat and calories.
Lunch: White chicken chili with whole wheat penne (from 400 Calorie Fix)
This was leftover from the previous night's dinner. I liked the chili recipe but the pasta seemed unnecessary. True, the recipe called for elbows but I think I'll just omit the pasta altogether next time. Save the calories for something else! ;)
Dinner: Bahamian-Spiced Chicken Breast with Yogurt-Cilantro Sauce; salad
The yogurt-cilantro sauce was deeeelish! And healthy, too, since I used plain Chobani 0% Greek yogurt.
Snack: Forelle pear; blood orange
Oh. My. God. This Forelle pear was so tiny and adorable! :) And I'm so glad blood (Moro) oranges are back in season - they are my favorite.
Dessert: Plain Graham crackers spread with homemade dark chocolate pumpkin butter
Yep - dark chocolate pumpkin butter. Recipe to follow in a few days, so make sure to come back!