I'm baaack with my second What I Ate Wednesday post! I hope everyone had a great week, filled with lots of healthy meals and tasty treats. Can't wait to check out the WIAW links at: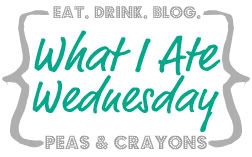 Oops, almost forgot to snap a pic...sorry this is half eaten!
Snacktime!
Snack #1: Plain Greek yogurt w/ a kiwi
Snack #2: Banana w/ PB2
Dessert: Blood Orange Greek yogurt
A word about the blood orange yogurt....it is AMAZING! It is one of 3 new Chobani flavors and I had to track it down, since blood orange is one of my favorite fruits/flavors. It seriously tasted like a creamsicle! If you find it, grab a container and the nearest spoon - you'll be glad you did :)
Time for a spot of tea...
365 Organic Green Tea w/ Pomegranate & Cranberry [from Whole Foods]
Don't forget to check out the other WIAW posts! See you next week for another food filled day!